Epically Awesome Throwdown
August 21, 2021
$125.00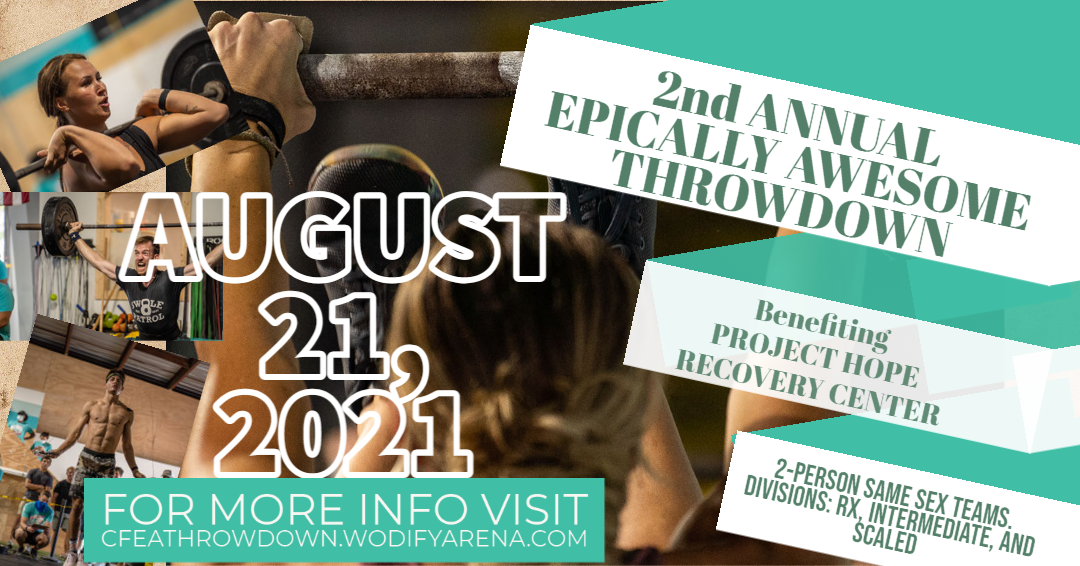 Join us for the 2nd annual EPICALLY AWESOME THROWDOWN on August 21, 2021 benefiting PROJECT HOPE RECOVERY CENTER.
There will be THREE divisions this year, scaled, intermediate, and RX (see standards below-movements are not limited to the list). Athletes will compete in 2-person same sex (Male or female) teams.
$125 (plus fees) for team registration (price will go up on 6/1 to $140) and includes an athlete T-shirt. Waivers will be signed online and will be available at athlete check in. Prize bags for all male and female divisions podium!
For more questions, standards, and upcoming info check our Epically Awesome Throwdown on Facebook or email challiss@crossfitepicallyawesome.com.
MOVEMENT STANDARDS 
RX
Muscle Up (ring and bar)
Handstand push ups
C2B
Toes to Bar
Double Unders
Box Jumps up to 30/24
Kettlebell Swings 70/53
Wall balls up to 30/20#
Dumbbell Movements 50/35#
Assault bike/row
Run 400#
Wreck Bag 50/40#
Sled pull/push 135/90# added
Burpees to target
Pistols
Ring dips
Barbell movements 135/95#
Includes clean, snatch, ground to overhead, shoulder to overhead, thruster, squat (overhead, front, and back)
Deadlift 225/155
INTERMEDIATE
*Division not appropriate for athletes with butterfly PU or rx strict HSPU
Pull ups
Handstand push up with two ab mats
Toes to Bar
Double Unders
Box Jumps up to 24/20
Kettlebell Swings 53/35
Wall balls up to 20/14
Dumbbell Movements 40/25
Assault bike/row
Run 400#
Wreck Bag 40/30
Sled pull/push 90/45# added
Burpees
Barbell movements 95/65#
Includes clean, snatch, ground to overhead, shoulder to overhead, thruster, squat (overhead, front, and back)
Deadlift 185/135
SCALED
*Division not appropriate for athletes with rx PU, DU, etc
Jumping Pull Ups
Hand release push ups
Knee raises
Single unders
Step ups 24/20
Wall Balls 14/10
DB Movements 20/15
Assault bike/row
Run 200m
Wreck bag 30/20
Sled push/pull 45/25# added
Burpees
Kettlebell Swings 35/26
Barbell movements 75/55#
Includes clean, ground to overhead, shoulder to overhead, thruster, squat (front and back)
Deadlift 135/95